Snowrator
Snowrator Kohler Engine
Product Number: SNR24003
---
Available Snowrator:
Product Details
Any snow and ice contractor will tell you, managing sidewalks has its own set of challenges. The BOSS Snowrator is a patented, right-size solution designed to make quick work of snow and ice covered sidewalks, and brings a maneuverable, multi-tasking, labor saving solution to your fleet. Snowrator reduces the need for shovelers, maximizing productivity and efficiency- whether in metro, commercial or residential environments- where clean and clear walking surfaces are always the top priority. This Snowrator configuration comes with a 4' straight-blade and a 20 gallon brine tank allowing the operator to quickly plow and treat surface area ice.
Snowrator Comparison - Compare the differences between the two best sidewalk warriors in the industry.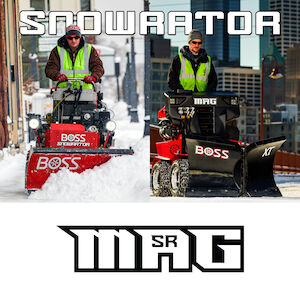 Snowrator V.S. SR MAG Comparison
Unsure which sidewalk warrior is right for you? The Snowrator vs. SR Mag comparison sheet will help you decide which sidewalk solution is designed with YOU in mind.
Learn More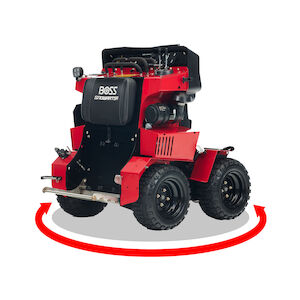 Four-Wheel Drive With Zero Turn Radius Capabilities
Zero turn radius capabilities provide ample maneuverability and four-wheel drive traction allows you to power through during any condition.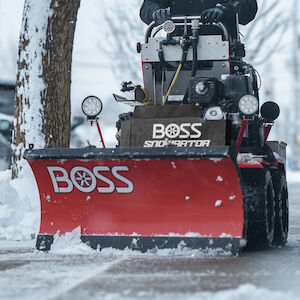 BOSS-Designed 4' Hydraulic Snowplow
The 4' hydraulic BOSS-Designed snowplow is built with poly skin to improve reliability and maximize productivity in light and heavy snow.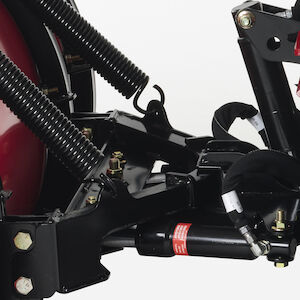 BOSS Hydraulic Cylinders & Trip Springs
Maximizes performance when obstacles are encountered to protect the plow and machine from damage.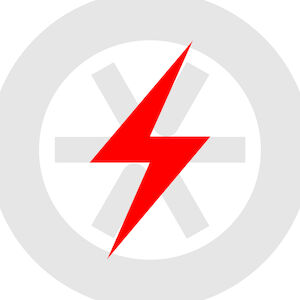 BOSS-Engineered Electrical System
Delivering enhanced weather resistant performance, BOSS-Engineered Electrical Systems will perform during any condition.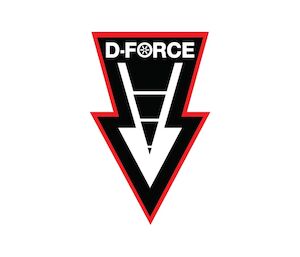 Float and Active Down Force
BOSS Downforce Improves scraping performance of plowing surfaces while back dragging by maintaining a consistent hydraulic downward force.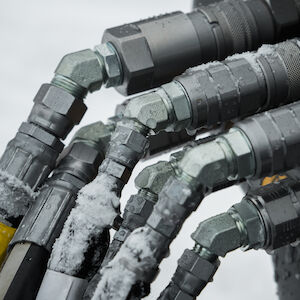 Coated Hydraulic Hose Ends
BOSS hydraulic hose ends provide improved corrosion resistance and increased reliability from previous hydraulic hose designs.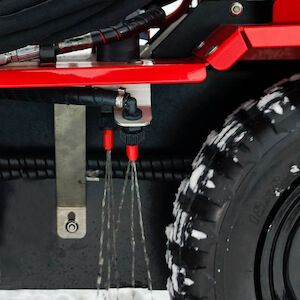 20-Gallon Anti-Icing/Deicing Brine System
The BOSS 20 gallon anti-Icing/Deicing Brine System quickly and efficiently controls surface area ice in hard-to-reach sidewalk surface places.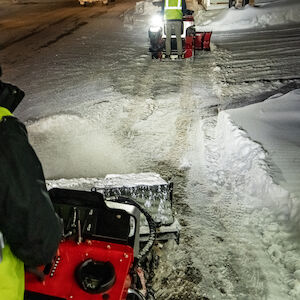 3 LED Worklights
Three strategically placed work lights provide better, more reliable visibility to your Snowrator or SR Mag.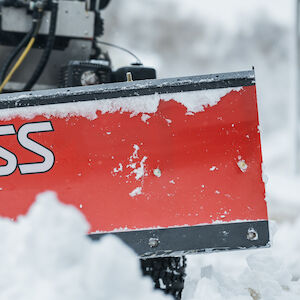 Reversible Cutting Edge
Reversible cutting edges flip to give you two sides of wear, so you can continue Restoring Order when nature calls.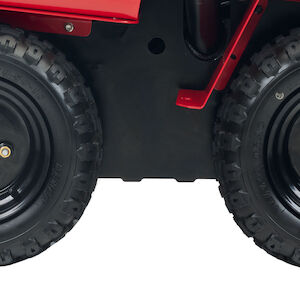 Stainless Steel Chassis
With rust and corrosion resistance, our stainless steel chassis set a level for added durability and toughness.
Specifications
Snowrator Kohler Engine
12-Volt Charging Port
No
4X4
Yes
Approach Angle
21.5 deg
Available Attachments
20 Gallon Brine System
4 ft. Straight Blade
Bucket Mount
Exact Path 1.5
TGS85
Battery Cold Cranking Amps
350 amps
Break-Over Angle
71.7 deg
Charging System
17 Amps
Chassis
Stainless Steel
Cooling System
Air Cooled
Cup Holder
No
Departure Angle
21.8 deg
Down Pressure Angle
15.3 deg
Electric Start
Yes
Electronic Throttle Body
No
Engine Displacement
429 cc
Engine Manufacturer
Kohler
Engine Type
Carb
Foldable Operator Platform
No
Front Lights
2 Standard
Fuel
Gasoline
Fuel Capacity
1.85 gal. / 7.0 L / 7.4 Qt.
Ground Clearance
5.17 in. / 13.13 cm
Height
55.5 in. / 140.97 cm
High-Flow Hydraulics
No
High-Flow Hydraulics (QDC)
No
Keyed Power
No
Length
77.31 in / 196.37 cm
Lift Height Angle
25 deg
Low-Flow Circuits
2
Low-Flow Hydraulics (QDC)
No
Lumens Per Light
1400
Lumens Total
4200
On-Board Diagnostics
No
Operator Warming Functionality
No
Rear Lights
1 Standard
Removable Attachments
No
Speed Forward
5 mph
Speed Reverse
3 mph
Tires
18" x 8.5" x 10"
Turning Radius
Zero Turn
Type
Skid Steer
Warranty
2-Year Limited
Weight
827 lbs / 375.12 kg
Wheelbase
24.5 in / 62.2 cm
Width
38.5 in / 97.79 cm