Snowrator TGS85
Product Number: SNR24030
$1,210.00 MSRP
Brochure
The Product Number shown for this item may be only one of several components needed for a complete product setup. To confirm additional component requirements, please visit the Product Selector Tool or consult with your local BOSS Dealer.
Product Details
The SR MAG features the all-new rear-mounted poly TGS85 broadcast spreader for an added layer of ice control performance. The spreader comes equipped with 1/8 horsepower motor and stainless steel hardware. TGS85 is conveniently mounted on the back of the SR MAG to allow for easy filling and can accommodate up to 50 pounds of de-icing material. The TGS85 enables an operator to spread de-icing material in more significant areas in a 90-degree pattern to the left rear of the machine. This new attachment is available for the SR MAG and existing Snowrator vehicle.
Additional components that are required for full installation:
MSC22875B - Controller (TGS85 & Exact Path 1.5)
SNR24040 - Spreader selector switch (only needed if you run both a TGS85 and Exact Path 1.5)
Snowrator Builder - Outfit your Snowrator or SR Mag the way you need to take on winters worst.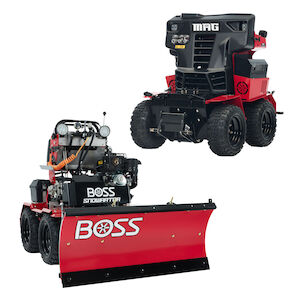 Snowrator Builder
Build your Sidewalk Vehicle with the Snowrator Builder at your price today! The Snowrator builder allows you to choose through an arsenal of implements, attachments, and accessories you'll need to make your job easier.
Learn More
| Specifications | Snowrator TGS85 |
| --- | --- |
| Adjustable Deflector | Standard |
| Capacity | cubic ft .85 / cubic m .024 |
| Control | Variable Speed Control with Blast Feature and Overload Protection |
| Display Type | Single Variable Speed LED Digital Controller |
| Feed Mechanism | Internal Auger with Adjustable Feed Gate |
| Feed Motor | N/A |
| Hopper Construction | Polyethylene |
| Hopper Cover | Solid poly |
| Hopper Length | 20.25 in / 51.5 cm |
| Hopper Tie-Down Kit | N/A |
| Hopper Width | 12.5 in / 32 cm |
| LED CHSML | N/A |
| Max Feed Rate | .5 cu ft (0.01 cu m) per minute |
| Reciever Hitch | N/A |
| Spinner | 10 in (25.4 cm) Diameter Bi Directional Poly Spinnner Disk |
| Spinner Gearmotor | High-torque/12-volt DC |
| Spreading Width | 1 ft - 30 ft (1 m - 9 m) |
| Top Screen | Standard |
| Trough | N/A |
| Vehicle Application | SNR & SNR MAG |
| Vibrator | N/A |
| Weight | 50 lbs / 22.7kg Plus Mount |