VBX 9000 Hopper Spreader (Auger)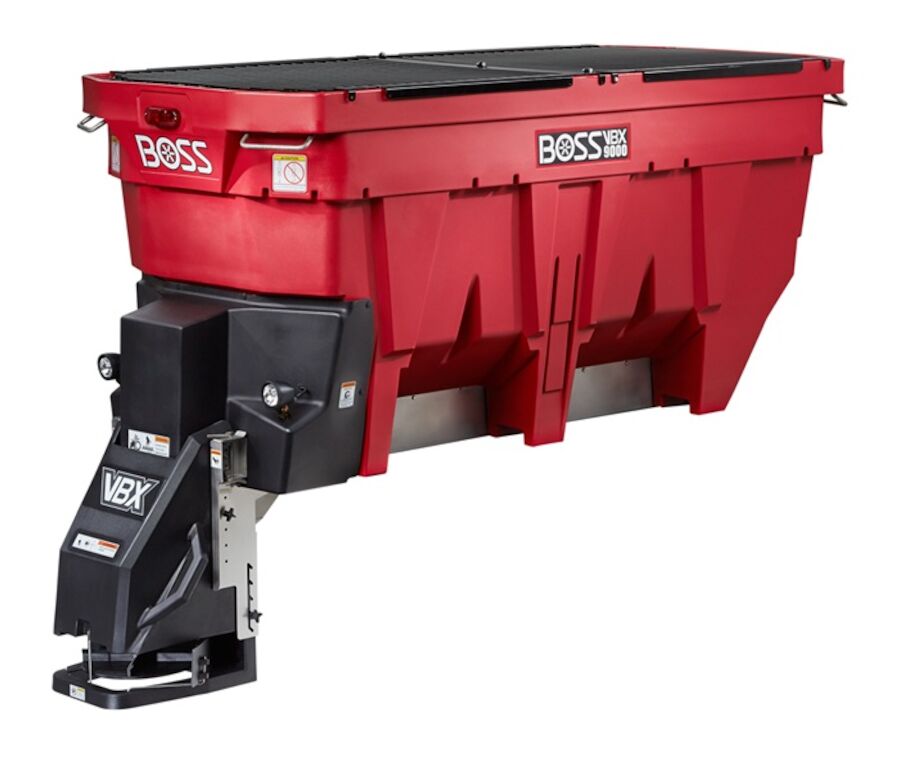 VBX
VBX 9000 Auger
Product Number: VBS15300C
---
Available VBX:
Where to Buy
Product Selector
The Product Number shown for this item may be only one of several components needed for a complete product setup. To confirm additional component requirements, please visit the Product Selector Tool or consult with your local BOSS Dealer.
Product Details
Utilizing up to three cubic yards of de-icing capacity, the VBX9000 is your heavy-duty solution for heavy-duty jobs. Constructed to break through frozen chunks of salt and sand, the VBX9000 auger system will withstand the most severe winter storms. BOSS VBX spreaders are built to make your job easier so you can be more productive. Because when it's on you to RESTORE ORDER, we've got your back.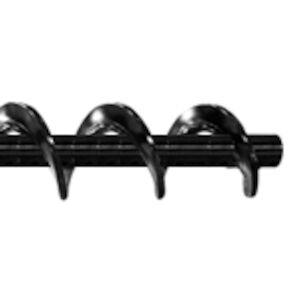 Full Length Auger
6" mild-steel helical auger with 9" of pitch and 2 3/8" diameter shaft for durability and reliability.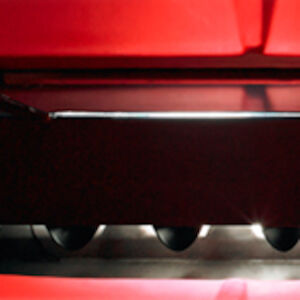 Auger Auto Reverse
Auger auto-reverse to minimize material obstructions. (Standard on the auger unit).
Learn More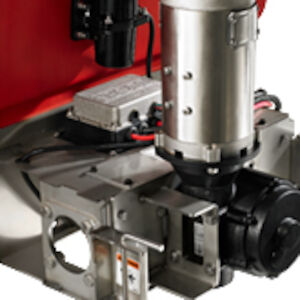 Stainless Steel Motor
for corrosion resistance, reduced maintenance and longer life.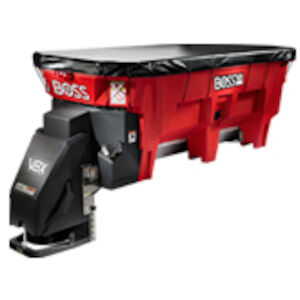 Strong Poly Hoppers
with 1.5, 2 & 3 cubic yards of capacity.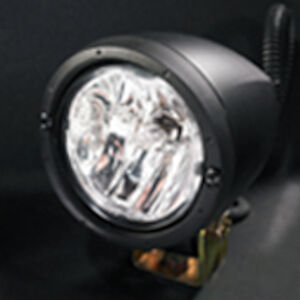 Remote Light Switch
Easily turn spreader lights on and off from inside the vehicle cab and at the rear of the spreader.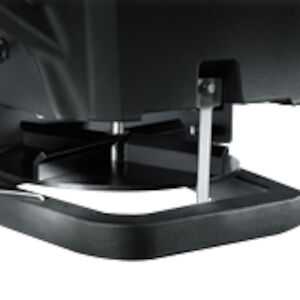 Urethane Spinner
for durability and maximum adjustability and spreading efficiency.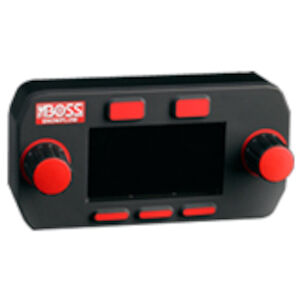 Motor Control And LCD Screen
for ease of use, reliability and good looks.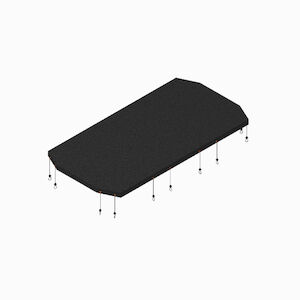 Standard Tarp System
VCP tarp with bungee tie-downs comes standard on all VBX spreaders to protect spreading material from the elements.
| Specifications | VBX 9000 Pintle | VBX 9000 Auger | VBX 8000 Pintle | VBX 8000 Auger | VBX 6500 Pintle | VBX 6500 Auger | VBX 3000 Auger |
| --- | --- | --- | --- | --- | --- | --- | --- |
| Adjustable Deflector | Standard | Standard | Standard | Standard | Standard | Standard | Standard |
| Capacity | cubic yd 3 / cubic m 2.3 | cubic yd 3 / cubic m 2.3 | cubic yd 2 / cubic m 1.53 | cubic yd 2 / cubic m 1.53 | cubic yd 1.5 / cubic m 1.15 | cubic yd 1.5 / cubic m 1.15 | cubic yd .44 / cubic m .33 |
| Control | Dual Variable Speed Control | Dual Variable Speed Control | Dual Variable Speed Control | Dual Variable Speed Control | Dual Variable Speed Control | Dual Variable Speed Control | Dual Variable Speed Control |
| Display Type | LCD Display Controller | LCD Display Controller | LCD Display Controller | LCD Display Controller | LCD Display Controller | LCD Display Controller | Dual Variable Speed LED Digital Controller |
| Feed Mechanism | Pintle/Conveyor Chain | Auger | Pintle/Conveyor Chain | Auger | Pintle/Conveyor Chain | Auger | Auger |
| Feed Motor | 3/4 HP SS Feed Motor | 3/4 HP SS Feed Motor | 3/4 HP SS Feed Motor | 3/4 HP SS Feed Motor | 3/4 HP SS Feed Motor | 3/4 HP SS Feed Motor | 1/4 HP Feed Motor |
| Gearbox | Planetary Worm 137:1 | Planetary Worm 91:1 | Planetary Worm 137:1 | Planetary Worm 91:1 | Planetary Worm 137:1 | Planetary Worm 91:1 | Worm 40:1 |
| Hopper Construction | 3/16" (0.5 cm) Double Wall Polyethylene Hopper | 3/16" (0.5 cm) Double Wall Polyethylene Hopper | 3/16" (0.5 cm) Double Wall Polyethylene Hopper | 3/16" (0.5 cm) Double Wall Polyethylene Hopper | 3/16" (0.5 cm) Double Wall Polyethylene Hopper | 3/16" (0.5 cm) Double Wall Polyethylene Hopper | 3/16" (0.5 cm) Double Wall Polyethylene Hopper |
| Hopper Cover | VCP Tarp w/ integral tie-downs | VCP Tarp w/ integral tie-downs | VCP Tarp w/ integral tie-downs | VCP Tarp w/ integral tie-downs | VCP Tarp w/ integral tie-downs | VCP Tarp w/ integral tie-downs | VCP Tarp w/ integral tie-downs |
| Hopper Height | 49 in. / 124.46 cm | 49 in. / 124.46 cm | 38 in. / 96.52 cm | 38 in. / 96.52 cm | 38 in. / 96.52 cm | 38 in. / 96.52 cm | 28 in. / 71.12 cm |
| Hopper Length | 107 in / 272 cm | 107 in / 272 cm | 96 in / 244 cm | 96 in / 244 cm | 78 in / 198 cm | 78 in / 198 cm | 33.5 in / 85 cm |
| Hopper Tie-Down Kit | Standard | Standard | Standard | Standard | Standard | Standard | Standard |
| Hopper Width | 48 in / 121.92 cm | 48 in / 121.92 cm | 48.25 in / 122.56 cm | 48.25 in / 122.56 cm | 48.25 in / 122.56 cm | 48.25 in / 122.56 cm | 50 in / 127.00 cm |
| Inverted V Baffle | Optional | Standard | Optional | Standard | Optional | Standard | Standard |
| LED CHSML | Standard | Standard | Standard | Standard | Standard | Standard | N/A |
| Lighting | Dual 55 watt halogen variable output work lights (Standard), dual LED work lights (optional) | Dual 55 watt halogen variable output work lights (Standard), dual LED work lights (optional) | Dual 55 watt halogen variable output work lights (Standard), dual LED work lights (optional) | Dual 55 watt halogen variable output work lights (Standard), dual LED work lights (optional) | Dual 55 watt halogen variable output work lights (Standard), dual LED work lights (optional) | Dual 55 watt halogen variable output work lights (Standard), dual LED work lights (optional) | Single 55 watt halogen (Standard), single LED work light (optional) |
| Material Conveying Method | 14" (36 cm) Wide Pintle Chain | 6" (15 cm) OD x 9" (23 cm) Pitch Full Length Auger | 14" (36 cm) Wide Pintle Chain | 6" (15 cm) OD x 9" (23 cm) Pitch Full Length Auger | 14" (36 cm) Wide Pintle Chain | 6" (15 cm) OD x 9" (23 cm) Pitch Full Length Auger | Shaftless Auger 4" OD (10 cm) x 4" (10 cm) Pitch |
| Max Feed Rate | 4 cu ft (0.11 cu m) per minute | 2.3 cu ft (0.06 cu m) per minute | 4 cu ft (0.11 cu m) per minute | 2.3 cu ft (0.06 cu m) per minute | 4 cu ft (0.11 cu m) per minute | 2.3 cu ft (0.06 cu m) per minute | 0.8 cu ft (0.02 cu m) per minute |
| Minimum Bed Length | 96 in (243.8 cm) | 96 in (243.8 cm) | 78 in (198 cm) | 78 in (198 cm) | 66 in (168 cm) | 66 in (168 cm) | 33.5 in (85 cm)* |
| Spinner | 14.5 in (36.8 cm) Diameter Poly Spinner | 14.5 in (36.8 cm) Diameter Poly Spinner | 14.5 in (36.8 cm) Diameter Poly Spinner | 14.5 in (36.8 cm) Diameter Poly Spinner | 14.5 in (36.8 cm) Diameter Poly Spinner | 14.5 in (36.8 cm) Diameter Poly Spinner | 12 in (31 cm) Diameter Poly Spinner |
| Spinner Assembly | Easily Removable/Swing Out and Height Adjustable | Easily Removable/Swing Out and Height Adjustable | Easily Removable/Swing Out and Height Adjustable | Easily Removable/Swing Out and Height Adjustable | Easily Removable/Swing Out and Height Adjustable | Easily Removable/Swing Out and Height Adjustable | Easily Removable |
| Spinner Gearmotor | 1/8 HP Spinner Gearmotor (Located above spinner) | 1/8 HP Spinner Gearmotor (Located above spinner) | 1/8 HP Spinner Gearmotor (Located above spinner) | 1/8 HP Spinner Gearmotor (Located above spinner) | 1/8 HP Spinner Gearmotor (Located above spinner) | 1/8 HP Spinner Gearmotor (Located above spinner) | 1/8 HP Spinner Gearmotor (Located above spinner) |
| Spreader Overall Length | 122 in / 309 cm | 122 in / 309 cm | 115 in / 292 cm | 115 in / 292 cm | 93.5 in / 237 cm | 93.5 in / 237 cm | 52 in / 132 cm |
| Spreading Width | 2 ft - 40 ft (0.6 m - 12 m) Dry free-flowing material | 2 ft - 40 ft (0.6 m - 12 m) Dry free-flowing material | 2 ft - 40 ft (0.6 m - 12 m) Dry free-flowing material | 2 ft - 40 ft (0.6 m - 12 m) Dry free-flowing material | 2 ft - 40 ft (0.6 m - 12 m) Dry free-flowing material | 2 ft - 40 ft (0.6 m - 12 m) Dry free-flowing material | 2 ft - 40 ft (0.6 m - 12 m) Dry free-flowing material |
| Top Screen | Standard | Standard | Standard | Standard | Standard | Standard | Standard |
| Trough | 11 ga. Stainless Steel | 11 ga. Stainless Steel | 11 ga. Stainless Steel | 11 ga. Stainless Steel | 11 ga. Stainless Steel | 11 ga. Stainless Steel | 14 ga. Stainless Steel |
| Vehicle Application | 15,000+ GVWR | 15,000+ GVWR | 3/4 T & 1 T | 3/4 T & 1 T | 3/4 T & 1 T | 3/4 T & 1 T | 1,000 Bed Capacity |
| Vibrator | Optional | Standard (Dual Vibrator) | Optional | Standard (Dual Vibrator) | Optional | Standard (Dual Vibrator) | Standard (Single Vibrator) |
| Weight | 760 lbs / 345 kg | 710 lbs / 322 kg | 650 lbs / 295 kg | 600 lbs / 272 kg | 600 lbs / 272 kg | 550 lbs / 249 kg | 230 lbs / 104 kg |