FORGE 2.0 Long Bed (Pintle)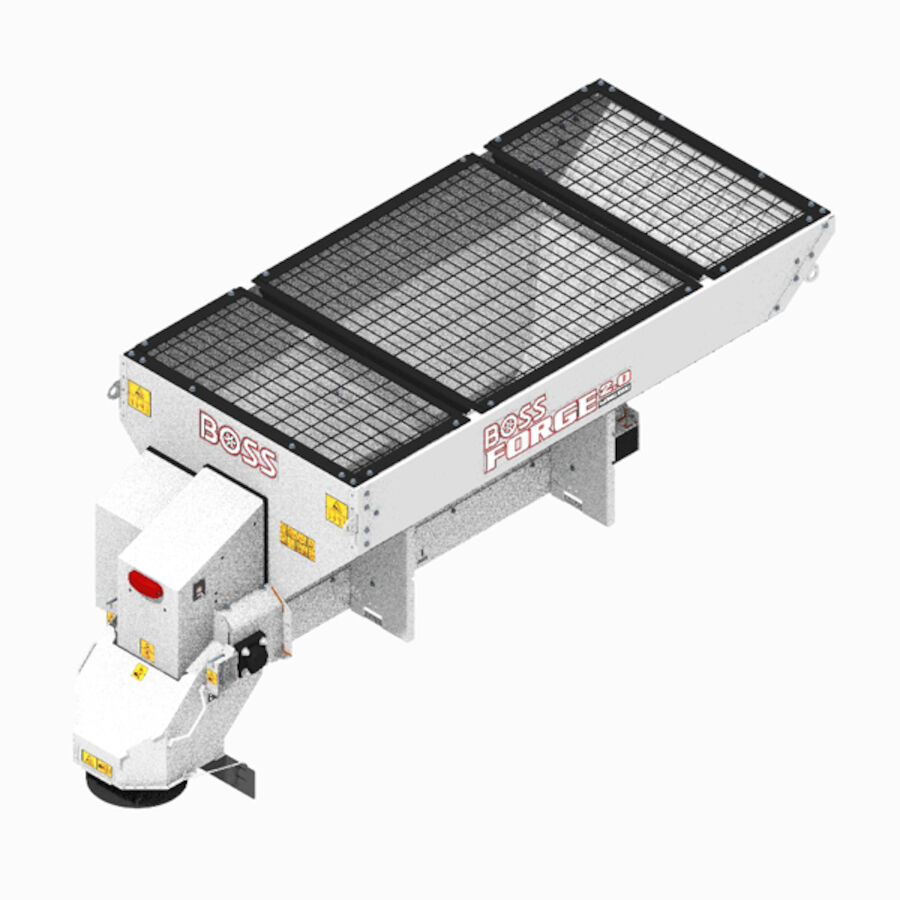 Forge
Forge 2.0 Pintle
Product Number: VBS22210
---
Available Forge:
Where to Buy
Product Selector
The Product Number shown for this item may be only one of several components needed for a complete product setup. To confirm additional component requirements, please visit the Product Selector Tool or consult with your local BOSS Dealer.
Product Details
The BOSS FORGE® 2.0 pintle chain system brings power and durability to long-bed applications. Constructed with a pintle chain to spread various types of material. The extended heavy-duty hopper makes loading simpler with a loader bucket. Complete with bolting, riveting, and welding, the FORGE® stainless steel hopper gives you optimal durability and serviceability. So you can do WHATEVER IT TAKES to get the job done right.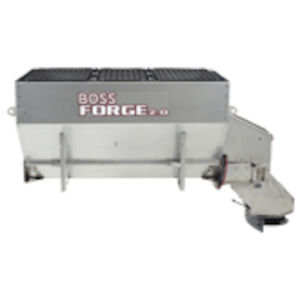 Stainless Steel Hopper
14 ga stainless steel hopper built to outlast the elements.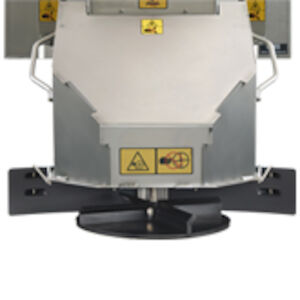 Urethane Spinner
14.5" diameter urethane spinner is sealed for durability and maximum spreading efficiency.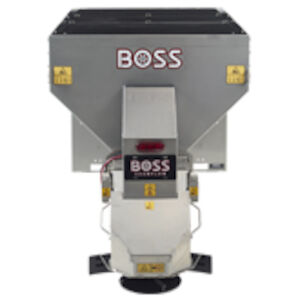 Motor Cover
Motor cover protects both the drive and spinner motors from falling sand, salt and de-icing materials.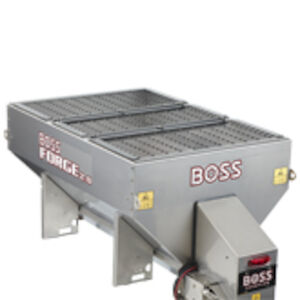 Top Screen
Standard top screen.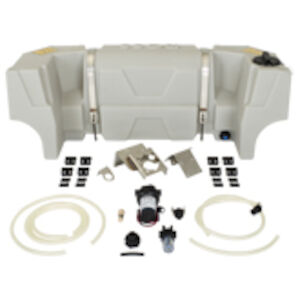 Pre-Wet Capable
Option for pre-wet capability and upgraded controller.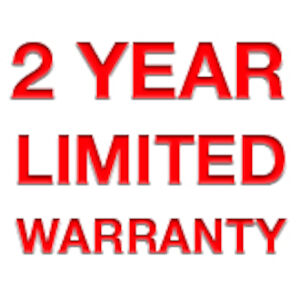 2 Year Limited Warranty
The BOSS 2-Year Limited Warranty protects against material defects for peace of mind.
Learn More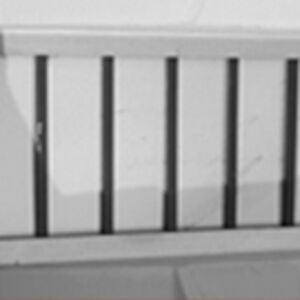 Pintle Chain Feed
Pintle chain spreaders allow you to spread sand and sand/ salt mix to meet the needs of your winter conditions.
Learn More
| Specifications | Forge 2.0 Pintle | Forge 2.0 Auger | Forge 1.5 Pintle | Forge 1.5 Auger | Forge 1.0 Pintle | Forge 1.0 Auger |
| --- | --- | --- | --- | --- | --- | --- |
| Adjustable Deflector | Standard | Standard | Standard | Standard | Standard | Standard |
| Capacity | cubic yd 2 / cubic m 1.53 | cubic yd 2 / cubic m 1.53 | cubic yd 1.5 / cubic m 1.15 | cubic yd 1.5 / cubic m 1.15 | cubic yd 1 / cubic m .76 | cubic yd 1 / cubic m .76 |
| Control | Dual Variable Speed Control | Dual Variable Speed Control | Dual Variable Speed Control | Dual Variable Speed Control | Dual Variable Speed Control | Dual Variable Speed Control |
| Display Type | LED Digital Display Controller | LED Digital Display Controller | LED Digital Display Controller | LED Digital Display Controller | LED Digital Display Controller | LED Digital Display Controller |
| Feed Mechanism | Pintle/Conveyor Chain | Auger | Pintle/Conveyor Chain | Auger | Pintle/Conveyor Chain | Auger |
| Feed Motor | 1/2 HP Feed Motor | 1/2 HP Feed Motor | 1/2 HP Feed Motor | 1/2 HP Feed Motor | 1/2 HP Feed Motor | 1/2 HP Feed Motor |
| Gearbox | Planetary Worm 137:1 | Planetary Worm 91:1 | Planetary Worm 137:1 | Planetary Worm 91:1 | Planetary Worm 137:1 | Planetary Worm 91:1 |
| Hopper Construction | 14 ga Stainless Steel | 14 ga Stainless Steel | 14 ga Stainless Steel | 14 ga Stainless Steel | 14 ga Stainless Steel | 14 ga Stainless Steel |
| Hopper Cover | Optional | Optional | Optional | Optional | Optional | Optional |
| Hopper Height | 36 in. / 91.44 cm | 36 in. / 91.44 cm | 33 in. / 83.82 cm | 33 in. / 83.82 cm | 33 in. / 83.82 cm | 33 in. / 83.82 cm |
| Hopper Length | 96 in / 244 cm | 96 in / 244 cm | 70 in / 177.8 cm | 70 in / 177.8 cm | 49.5 in / 126 cm | 49.5 in / 126 cm |
| Hopper Tie-Down Kit | Standard | Standard | Standard | Standard | Standard | Standard |
| Hopper Width | 48 in / 121.92 cm | 48 in / 121.92 cm | 48 in / 121.92 cm | 48 in / 121.92 cm | 48 in / 121.92 cm | 48 in / 121.92 cm |
| Inverted V Baffle | Optional | Standard | Optional | Standard | Optional | Standard |
| LED CHSML | Standard | Standard | Standard | Standard | Standard | Standard |
| Lighting | Optional halogen or LED work lights | Optional halogen or LED work lights | Optional halogen or LED work lights | Optional halogen or LED work lights | Optional halogen or LED work lights | Optional halogen or LED work lights |
| Material Conveying Method | 14" (36 cm) Wide Pintle Chain | 6" (15 cm) OD x 9" (23 cm) Pitch Full Length Auger | 14" (36 cm) Wide Pintle Chain | 6" (15 cm) OD x 9" (23 cm) Pitch Full Length Auger | 14" (36 cm) Wide Pintle Chain | 6" (15 cm) OD x 9" (23 cm) Pitch Full Length Auger |
| Max Feed Rate | 4 cu ft (0.11 cu m) per minute | 2.3 cu ft (0.06 cu m) per minute | 4 cu ft (0.11 cu m) per minute | 2.3 cu ft (0.06 cu m) per minute | 4 cu ft (0.11 cu m) per minute | 2.3 cu ft (0.06 cu m) per minute |
| Minimum Bed Length | 96 in (243.8 cm) | 96 in (243.8 cm) | 78 in (198 cm) | 78 in (198 cm) | 66 in (168 cm) | 66 in (168 cm) |
| Spinner | 14.5 in (36.8 cm) Diameter Poly Spinner | 14.5 in (36.8 cm) Diameter Poly Spinner | 14.5 in (36.8 cm) Diameter Poly Spinner | 14.5 in (36.8 cm) Diameter Poly Spinner | 14.5 in (36.8 cm) Diameter Poly Spinner | 14.5 in (36.8 cm) Diameter Poly Spinner |
| Spinner Assembly | Easily Removable/Swing Out | Easily Removable/Swing Out | Easily Removable/Swing Out | Easily Removable/Swing Out | Easily Removable/Swing Out | Easily Removable/Swing Out |
| Spinner Gearmotor | 1/8 HP Gearmotor | 1/8 HP Gearmotor | 1/8 HP Gearmotor | 1/8 HP Gearmotor | 1/8 HP Gearmotor | 1/8 HP Gearmotor |
| Spreader Overall Length | 124 in / 315 cm | 124 in / 315 cm | 98 in / 249 cm | 98 in / 249 cm | 78 in / 198 cm | 78 in / 198 cm |
| Spreading Width | 2 ft - 40 ft (0.6 m - 12 m) Dry free-flowing material | 2 ft - 40 ft (0.6 m - 12 m) Dry free-flowing material | 2 ft - 40 ft (0.6 m - 12 m) Dry free-flowing material | 2 ft - 40 ft (0.6 m - 12 m) Dry free-flowing material | 2 ft - 40 ft (0.6 m - 12 m) Dry free-flowing material | 2 ft - 40 ft (0.6 m - 12 m) Dry free-flowing material |
| Top Screen | Standard | Standard | Standard | Standard | Standard | Standard |
| Trough | 11 ga. Stainless Steel | 11 ga. Stainless Steel | 11 ga. Stainless Steel | 11 ga. Stainless Steel | 11 ga. Stainless Steel | 11 ga. Stainless Steel |
| Vehicle Application | 3/4 T & 1 T | 3/4 T & 1 T | 3/4 T & 1 T | 3/4 T & 1 T | 1/2 T | 1/2 T |
| Vibrator | Optional | Standard (Single Vibrator) | Optional | Standard (Single Vibrator) | Optional | Standard (Single Vibrator) |
| Weight | 825 lbs / 374.2 kg | 775 lbs / 351.5 kg | 750 lbs / 340 kg | 700 lbs / 318 kg | 625 lbs / 284 kg | 575 lbs / 261 kg |