SR MAG 48" Snow Thrower
Product Number: STX24410
Where to Buy
Brochure
The Product Number shown for this item may be only one of several components needed for a complete product setup. To confirm additional component requirements, please visit the Product Selector Tool or consult with your local BOSS Dealer.
Product Details
When it comes to moving snow, the SR MAG's new snow thrower STX48 delivers. A system designed to process more snow even faster, the snow thrower features a 2500 psi motor that produces 750 rpms and 14.5 horsepower ­— moving snow between two and 35 feet. Designed with the BOSS trusted float system and D-Force as standard features for all attachments, the vehicle side hydraulics make operating attachments easy.
Snowrator Builder - Outfit your Snowrator or SR Mag the way you need to take on winters worst.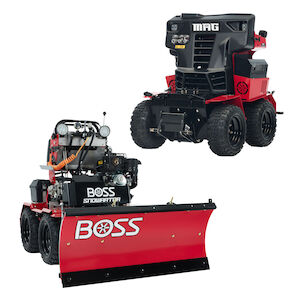 Snowrator Builder
Build your Sidewalk Vehicle with the Snowrator Builder at your price today! The Snowrator builder allows you to choose through an arsenal of implements, attachments, and accessories you'll need to make your job easier.
Learn More
| Specifications | SR MAG 48" Snow Thrower |
| --- | --- |
| Auger Diameter | 14 in / 35.6 cm |
| Chute Deflector | Hyrdraulic |
| Chute Rotation | Hydraulic, 210 Degrees |
| Height | 47 in (119.3 cm) to 51 in (129.5 cm) (Depends On Tilt Position) |
| Impeller (Fan) Diameter | 18" ( 45.7 cm) |
| Overall Width, Straight | 48 in. (121.9 cm) |
| Shear Pins/Bolts | Not Required, Hydraulic Relief Valve Protection |
| Snow Cut Depth | 26" (66 cm) |
| Throwing Distance | 2 - 40 ft (0.6m - 12.2m) |
| Weight, Created For Shipping | 450 lbs / 204 kg |
| Working Width, Straight | 48 in. (121.9 cm) |