Compact Vehicle 5'6" Steel V-Plow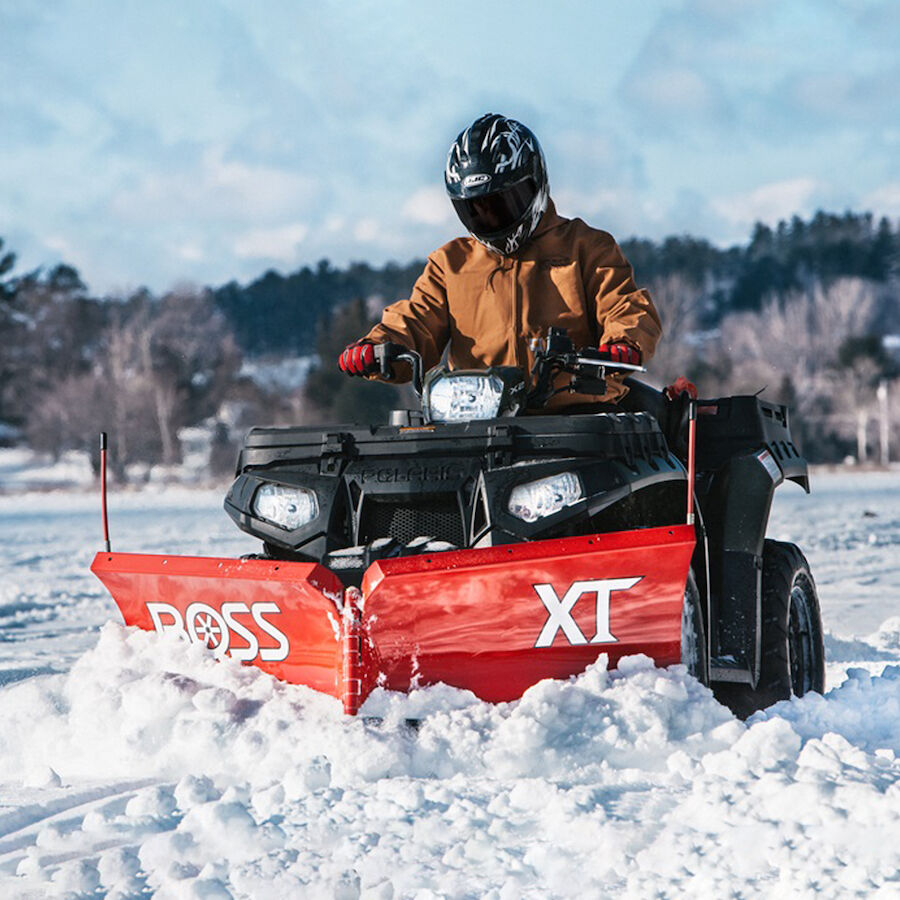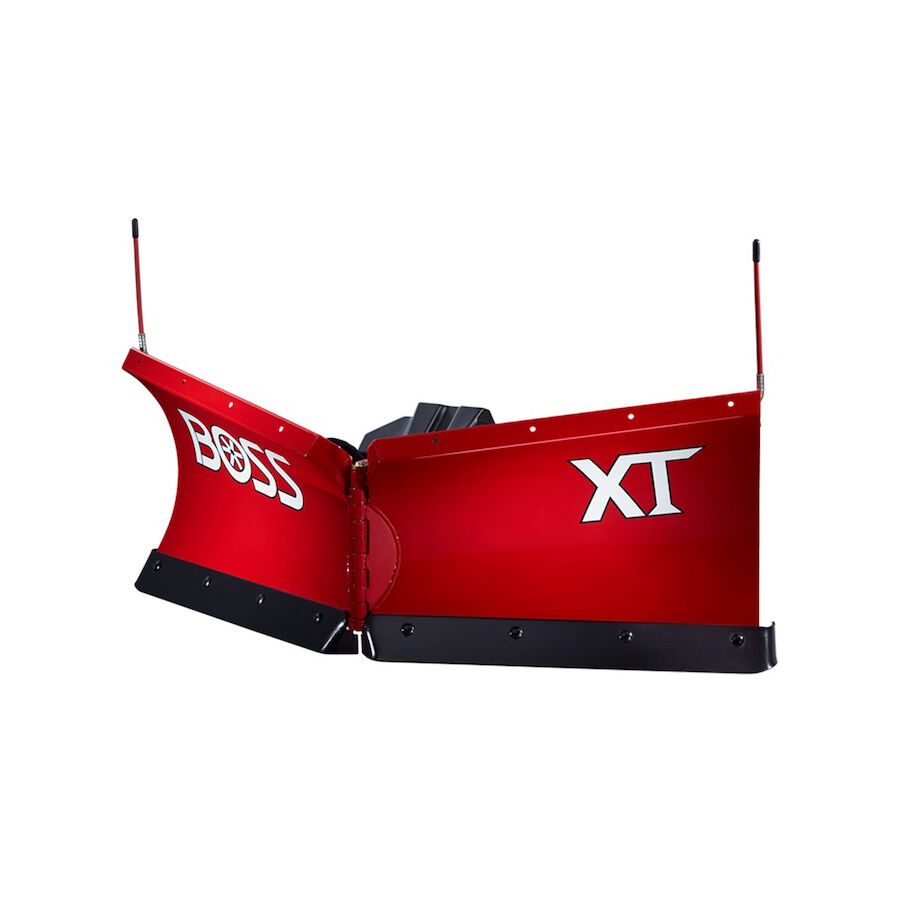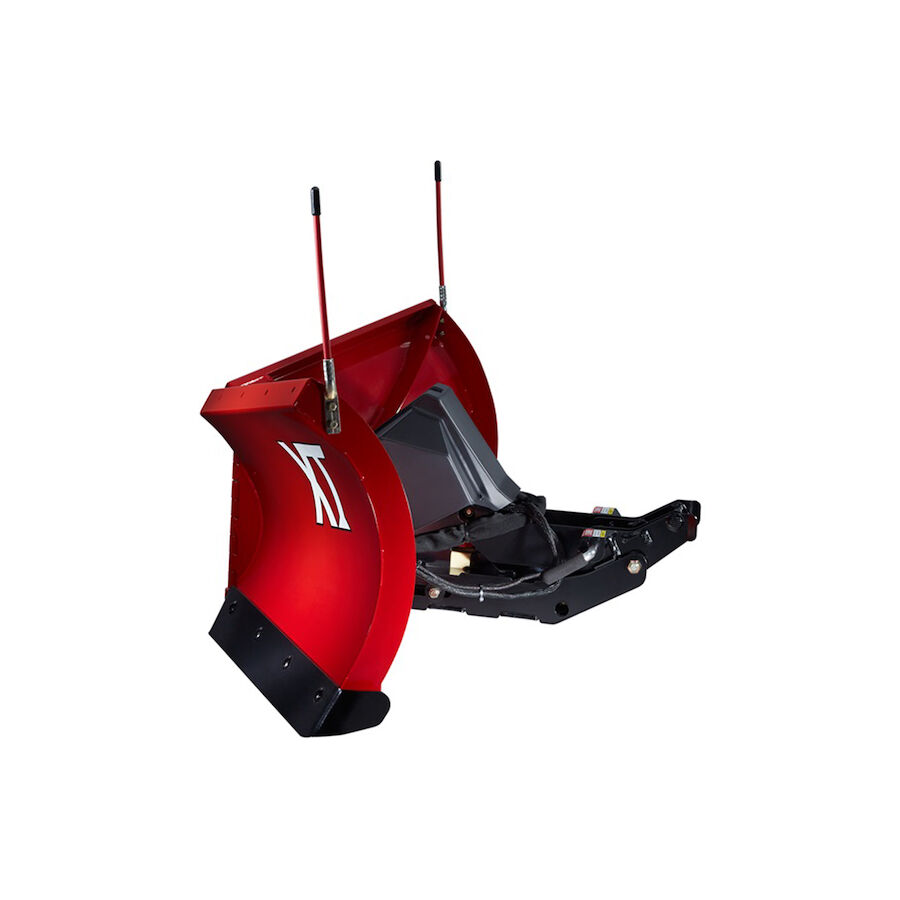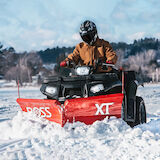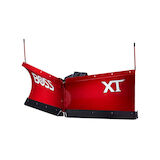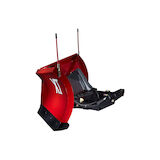 COMPACT VEHICLE PLOWS
5'6" Steel XT
Product Number: MSC13632
---
Available COMPACT VEHICLE PLOWS:
Where to Buy
Product Selector
The Product Number shown for this item may be only one of several components needed for a complete product setup. To confirm additional component requirements, please visit the Product Selector Tool or consult with your local BOSS Dealer.
Product Details
Whether it's snow removal in tight spaces or clearing walkways and sidewalks, BOSS snowplows are engineered to perform in the worst winter conditions. Designed specifically for compact vehicle applications, BOSS straight-blade and V-plow products are fully hydraulic to deliver maximum efficiency with no winches, cables or pulleys.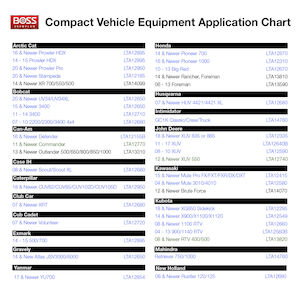 Compact Vehicle Equipment Application Guide
The Compact Vehicle Equipment Application Guide shows if your Full-Size UTV and Mid-Size UTV, ATV or Toro vehicle is recommended to carry a BOSS Snowplow. Several vehicle specifications are taken into consideration in order to make an accurate recommendation for your specific vehicle and needs. If no products are recommended, it may mean the vehicle manufacturer does not recommend a snowplow for that particular vehicle. For additional information on vehicles not found in the Selector tool, please call 800-286-4155 option #2 or chat with us.
Learn More
| Specifications | 6'6" Steel XT | 5'6" Steel XT | 6' Poly Straight Blade | 5' Poly Straight Blade | 4' Poly Straight Blade |
| --- | --- | --- | --- | --- | --- |
| Attachment System | RT3 (SmartHitch 2 optional) | Quick Attach | RT3 (SmartHitch 2 optional) | Quick Attach | Quick Attach |
| Blade Height | 25 in inside to 30.5 in outside (64 cm to 77 cm) | 18.375 in inside to 23.158 in outside (48 cm to 58.82 cm) | 22 in (55.9 cm) | 22 in (55.9 cm) | 22 in (55.9 cm) |
| Blade Material | Steel | Steel | Poly | Poly | Poly |
| Blade Size | 6 ft. 6 in. | 5 ft. 6 in. | 6 ft. | 5 ft. | 4 ft. |
| Blade Width (Scoop) I Curb Guard Width | 66.5 in (169 cm) / 73.5 in (186.7 cm) | 55.8125 in (149 cm) / 62.25 in (158.1 cm) | | | |
| Blade Width (V) I Curb Guard Width | 68.75 in (175 cm) / 71.25 in (180.9 cm) | 58.5 in (149 cm) / 61 in (154.9 cm) | | | |
| Controller | Smart Touch 2 | Smart Touch 2 | Smart Touch 2 | Smart Touch 2 (UTV) & Switch box (ATV) | Smart Touch 2 (UTV) & Switch box (ATV) |
| Cutting Edge | 1/4 in x 5 in (.064 cm x 13 cm) AR450 | 1/4 in x 4 in (.064 cm x 10.2 cm) AR450 | 1/4 in x 4 in (.064 cm x 10.4 cm) | 1/4 in x 4 in (.064 cm x 10.4 cm) | 1/4 in x 4 in (.064 cm x 10.4 cm) Reversible |
| Hydraulic Package | High-performance (Comes off with the plow) | High-performance (Comes off with the plow) | High-performance (Comes off with the plow) | High-performance (Comes off with the plow) | High-performance (Comes off with the plow) |
| Paint Finish | SmartShield | SmartShield | SmartShield | SmartShield | SmartShield |
| Plow Lifting & Angling | Hydraulic | Hydraulic | Hydraulic | Hydraulic | Hydraulic |
| Plow Shoes | Optional | Optional | Optional | Optional | Optional |
| Plow Type | V-Plow | V-Plow | Straight-Blade | Straight-Blade | Straight-Blade |
| Plowing Width at 30 Degree Angle | 72 3/8" (184 cm) | 57 1/8" (145 cm) | 62 1/2" (159 cm) | 52" (132.1 cm) | 41 1/16" (104.3 cm) |
| Trip Mechanism | Full-Trip | Full-Trip | Full-Trip | Full-Trip | Full-Trip |
| Trip Return Springs | 2 | 2 | 2 | 2 | 2 |
| Undercarriage | Sloped Profile (trail-compatible) | Low Profile | Sloped Profile (trail-compatible) | Low Profile | Low Profile |
| Vertical Support Ribs | 6 Vertical, 2 Diagonal | 4 Vertical, 2 Diagonal | 4 | 4 | 4 |
| Warranty | 2-Year | 2-Year Limited | 2-Year Limited | 2-Year Limited | 2-Year Limited |
| Weight Complete | 400 lbs / 181 kg | 245 lbs / 111 kg | 314 lbs / 142 kg | 190 lbs / 86.1 kg | 170 lbs / 77 kg |