TGS 600 Tailgate Spreader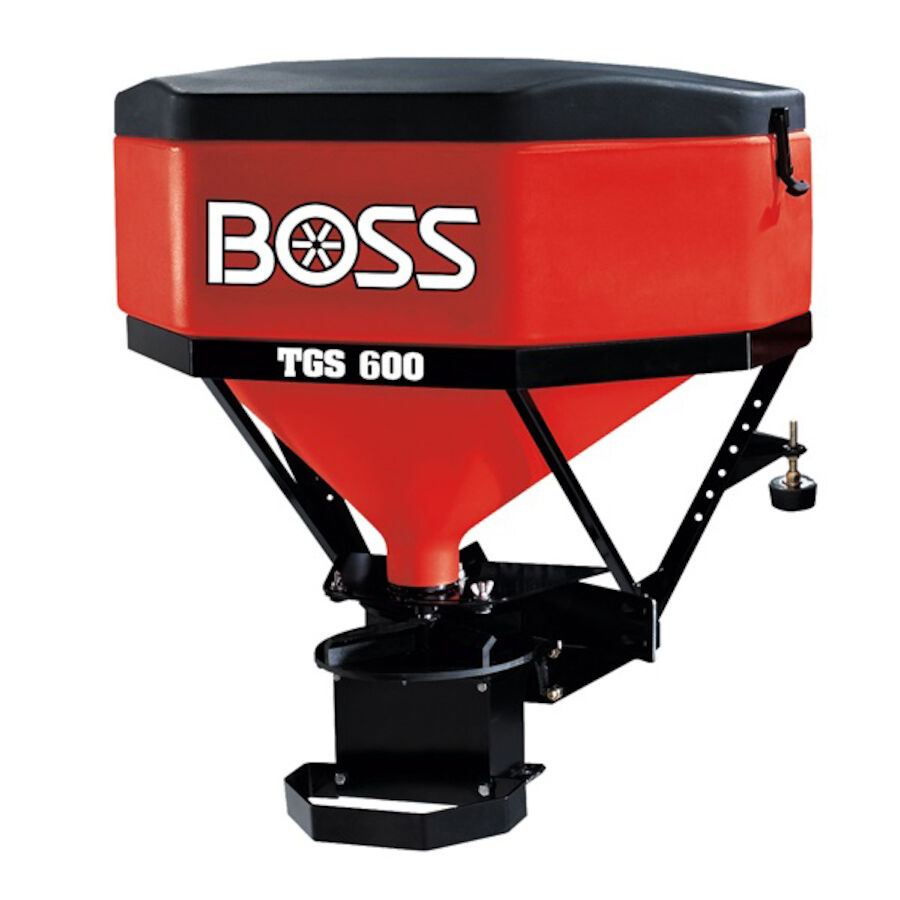 TGS
TGS 600
Product Number: TGS06000
---
Available TGS:
Where to Buy
Product Selector
The Product Number shown for this item may be only one of several components needed for a complete product setup. To confirm additional component requirements, please visit the Product Selector Tool or consult with your local BOSS Dealer.
Product Details
All TGS Spreaders are constructed to handle harsh conditions rapidly and efficiently. The TGS600 features six cubic feet of spreading material space, a low profile design, an adjustable feed gate, variable speed control, and more. It's another example of rugged, reliable BOSS innovations built to BACK YOU UP for years to come.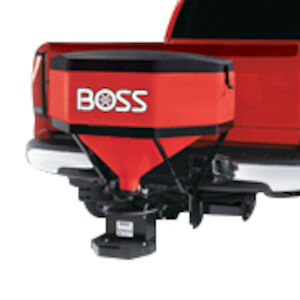 Low Profile Design
is designed so that your vision is not obstructed.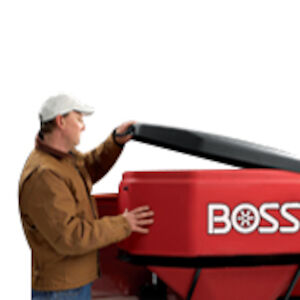 Solid Poly Hopper Cover
is designed to last longer and prevent moisture from entering the hopper.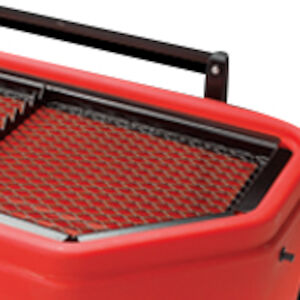 Top Screen Bag Splitter
The top screen with bag splitter easily opens bags and filters deicing material.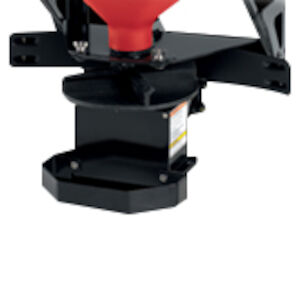 Adjustable Deflector
The material deflector allows you to adjust the material discharge pattern. The 12" poly spinner is durable, corrosion-resistant and ensures consistent distribution.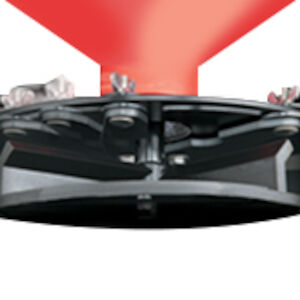 Adjustable Feed Gate
allows you to adjust the material discharge amount and to preserve material from being lost during transport.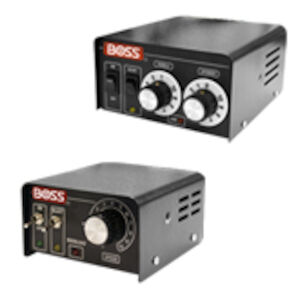 Variable Speed Control
Standard feature that provides the ultimate in spreader control.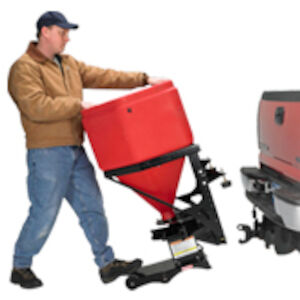 Optional RT3 Attachment System
The BOSS RT3 Hitch System allows you to easily roll your spreader into place.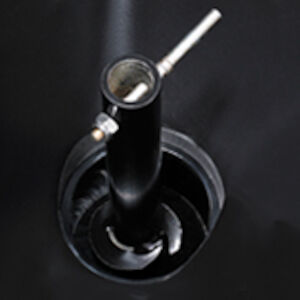 Optional Material Saver Feed System
Eliminates material flow when spreader is not in use.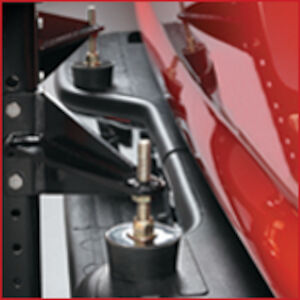 Stabilizer Arms
hold the spreader securely in place while eliminating side-to-side movement.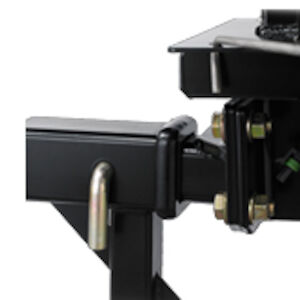 Optional Slide In Attachment
Allows you to lift and slide your spreader into place.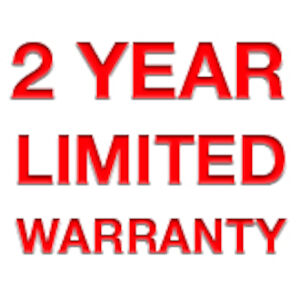 2 Year Limited Warranty
The BOSS 2-Year Limited Warranty protects against material defects for peace of mind.
Learn More
| Specifications | TGS 1100 | TGS 800 | TGS 600 | TGS 300 |
| --- | --- | --- | --- | --- |
| Adjustable Deflector | Standard | Standard | Standard | Standard |
| Capacity | cubic ft 11 / cubic m .311 | cubic ft 8 / cubic m .226 | cubic ft 6 / cubic m .169 | cubic ft 3 / cubic m .08 |
| Control | Variable Speed Control with Blast Feature and Overload Protection | Dual Variable Speed Control with Blast Feature and Overload Protection | Variable Speed Control with Blast Feature and Overload Protection | Variable Speed Control with Blast Feature and Overload Protection |
| Display Type | Single Variable Speed LED Digital Controller | Dual Variable Speed LED Digital Controller | Single Variable Speed LED Digital Controller | Single Variable Speed LED Digital Controller |
| Feed Mechanism | Internal Auger with Adjustable Feed Gate | Feed Paddle | Internal Auger with Adjustable Feed Gate | Internal Auger w/Material Saving Brush & Adjustable Feed Gate |
| Feed Motor | N/A | 1/4 HP Feed Motor | N/A | N/A |
| Hopper Construction | Polyethylene | Polyethylene | Polyethylene | Polyethylene |
| Hopper Cover | Solid poly | Solid poly | Solid poly | Solid poly |
| Hopper Length | 20.5 in / 52.7 cm | 22 in / 55.9 cm | 21.5 in / 54.6 cm | 20.25 in / 51.5 cm |
| Hopper Tie-Down Kit | Mount/Tie-Down Kit Sold Separately | Mount/Tie-Down Kit Sold Separately | Mount/Tie-Down Kit Sold Separately | Mount/Tie-Down Kit Sold Separately |
| Hopper Width | 44 in / 111.76 cm | 36 in / 91.44 cm | 38 in / 96.52 cm | 29 in / 73.66 cm |
| Reciever Hitch | Class 4 | Class 4 | Class 3 or 4 | 1 ¼" and 2", Class 2 and up |
| Spinner | 12 in (31 cm) Diameter Poly Spinner | 12 in (31 cm) Diameter Poly Spinner | 12 in (31 cm) Diameter Poly Spinner | 12 in (31 cm) Diameter Poly Spinner |
| Spinner Assembly | N/A | N/A | N/A | N/A |
| Spinner Gearmotor | High-torque/12-volt DC | High-torque/12-volt DC | High-torque/12-volt DC | High-torque/12-volt DC |
| Spreader Overall Length | 24 in / 61 cm | 21 in / 53 cm | 21 in / 53 cm | 15 in / 38 cm |
| Spreading Width | 4 ft - 30 ft (1 m - 9 m) | 4 ft - 30 ft (1 m - 9 m) | 4 ft - 30 ft (1 m - 9 m) | 4 ft - 30 ft (1 m - 9 m) |
| Top Screen | Standard, with Bag Opener | Standard, with Bag Opener | Standard, with Bag Opener | Standard |
| Vehicle Application | 3/4 T & 1 T | 3/4 T & 1 T | 3/4 T & 1 T | 1/2 T |
| Vibrator | Optional | Optional | Optional | Not Recommended |
| Weight | 152 lbs / 69 kg Plus Mount | 220 lbs / 160 kg Plus Mount | 101 lbs / 46 kg Plus Mount | 70 lbs / 31.8 kg Plus Mount |