LEGACY SERIES SIDEWALK SLAYER [Kohler]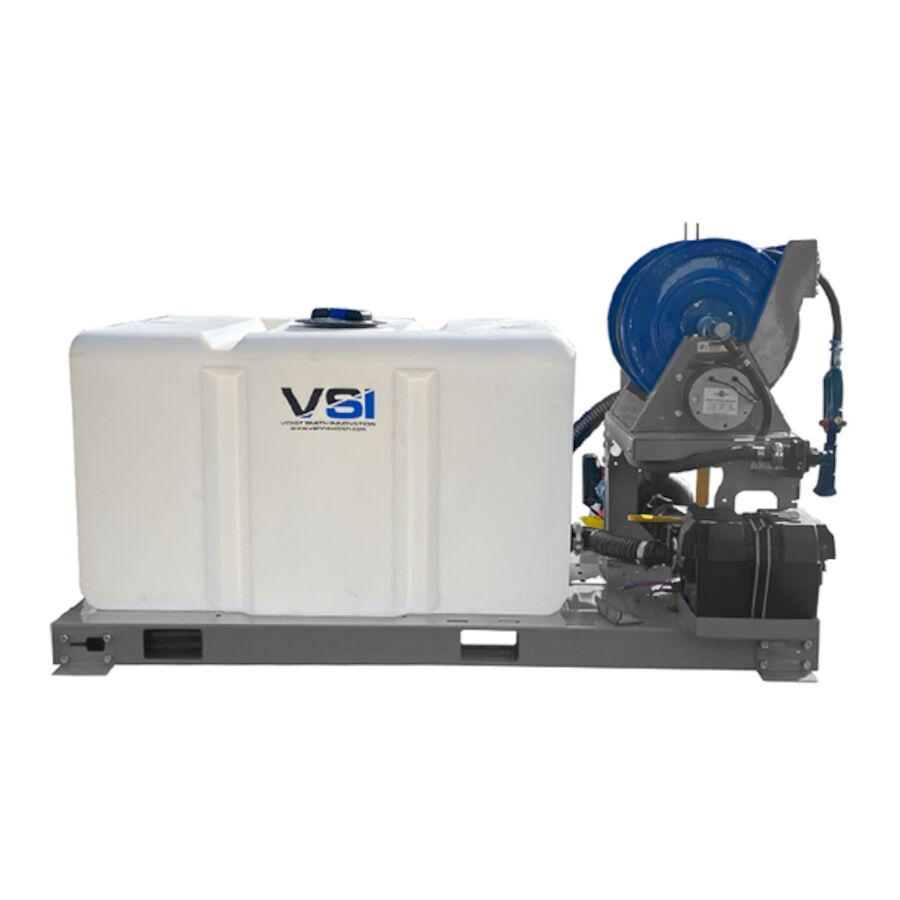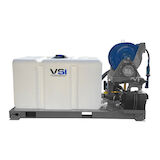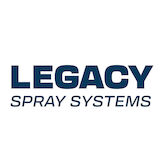 VSI Legacy Series
Legacy Sidewalk Slayer
Product Number: LIQ28825
---
Available VSI Legacy Series:
Find a Dealer
Product Selector
The Product Number shown for this item may be only one of several components needed for a complete product setup. To confirm additional component requirements, please visit the Product Selector Tool or consult with your local BOSS Dealer.
Product Details
The VSI Sidewalk Slayer is set up perfectly for a sidewalk crew. Mount this unit in a truck bed, trailer, or inside a box truck and utilize the 200 gallons of liquid by spraying sidewalks with the gun or filling up other liquid applying equipment.
Elevate Your Liquid IQ - Discover the science behind liquid deicing, how it can positively impact your business, and the ways to incorporate it into your fleet.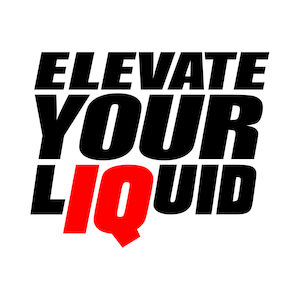 Elevate Your Liquid IQ
Snow and ice contractors are making the switch to liquid deicing. Learn how using liquids can be a more effective solution for snow and ice control while also reducing costs for your business today.
Learn More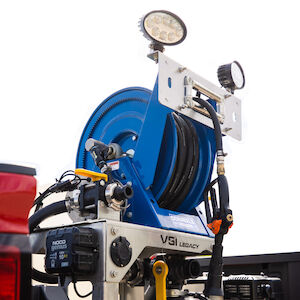 100' Electric Rewind Hose Reel
VSI by BOSS liquid deicing sprayers feature a state-of-the-art 100' Electric Rewind Hose Reel. With a generous length of 100 feet, the hose reel provides ample reach, allowing easy access to distant areas. The electric rewind mechanism allows you to effortlessly retract the hose on your app, the wireless controller, or with the button on the control box. This streamlines the workflow, saving time and reducing strain on the operator. The hose reel is specifically engineered to withstand the demands of liquid deicing applications, ensuring reliable performance in challenging conditions.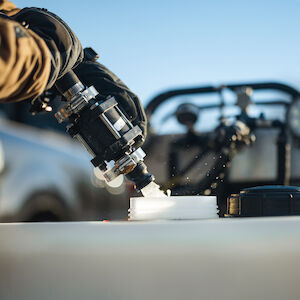 25' One Inch Fill Hose
The 25' one-inch fill hose is a versatile accessory that can be attached to conveniently fill not only Snowrator units but other types of spray units. This hose provides flexibility and ease of use, allowing efficient and hassle-free refilling of the desired equipment. With its one-inch diameter and 25-foot length, it offers ample reach and flow capacity, ensuring seamless and reliable filling operations for a variety of spray units.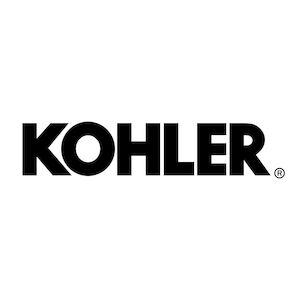 Kohler Electric Start Engine
The engine used in the system offer exceptional cold-start capabilities and reliable operation even in extreme temperatures. Paired with a 2" Banjo poly pump, these engines deliver ample flow to the boom, enabling the system to achieve a maximum speed of 17 MPH while applying 80 gallons per acre with all three booms engaged. This combination ensures efficient and effective performance, allowing for optimal coverage and productivity during operations.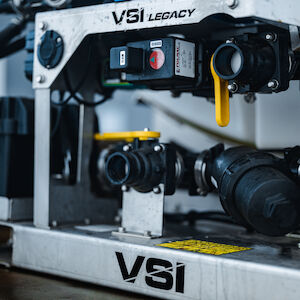 Stainless Steel
The sprayer features a durable stainless-steel construction that brings numerous advantages. The stainless-steel material's corrosion and rust resistance ensures long-lasting performance even in harsh conditions. It is also easy to clean, preventing residue buildup and maintaining hygiene. The sprayer's stainless steel design guarantees durability, efficiency, and cleanliness.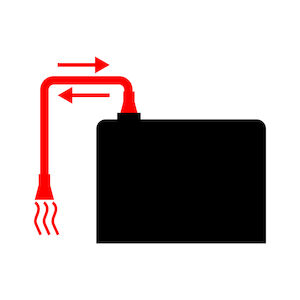 Self-Loading and Pump Out
Our liquid deicing sprayer is equipped with a convenient self-fill capability. Allowing it to easily draw from storage tanks or other tanks without needing an additional pump. This eliminates the need to purchase extra pumps solely for the purpose of filling storage tanks, streamlining the operation. Furthermore, the sprayer is designed with a powerful 2" line, enabling efficient pumping into other sprayers. In just a matter of minutes, this sprayer can promptly fill smaller sprayers along the route, enabling them to resume spraying operations quickly.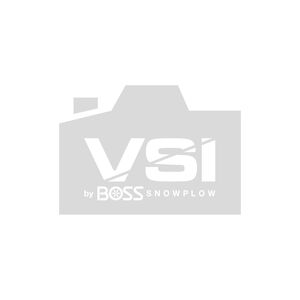 Full Tube Fork Pockets
Loading and unloading the sprayer is made effortless and worry-free, including front and side fork pockets. These specially designed pockets eliminate the risk of damaging any plumbing during the process. Whether using forks from the front or sides, the sprayer can be securely loaded in various situations. Fork pockets provide convenience and peace of mind, ensuring a smooth and safe loading experience without concerns about potential plumbing damage.
| Specifications | Legacy 305 | Legacy 500 | Legacy 750 | Legacy 1000 | Legacy 1600 | Legacy APB | Legacy Sidewalk Slayer | Legacy Brine Maker |
| --- | --- | --- | --- | --- | --- | --- | --- | --- |
| Battery | Standard | Standard | Standard | Standard | Standard | Standard | Standard | N/A |
| Boom Type | 3 Lane Boom | 3 Lane Boom | 3 Lane Boom | 3 Lane Boom | 3 Lane Boom | 3 Lane Boom | N/A | N/A |
| Capacity | gal 305 / l 1155 | gal 500 / l 1893 | gal 750 / l 2839 | gal 1000 / l 3785 | gal 1600 / l 6057 | gal 1600 / l 6057 | gal 200 / l 757 | gal 650-700 / l 2461-2660 |
| Construction | Stainless Steel | Stainless Steel | Stainless Steel | Stainless Steel | Stainless Steel | Stainless Steel | Stainless Steel | Stainless Steel |
| Engine Manufacturer | Kohler | Kohler | Kohler | Kohler | Kohler | Kohler | Kohler | Baldor |
| Fuel | Gasoline | Gasoline | Gasoline | Gasoline | Gasoline | Gasoline | Gasoline | Electric |
| Height | 43 in. / 109.22 cm | 50 in. / 127 cm | 57 in / 144.78 cm | 67 in. / 170.18 cm | 63 in. / 160.02 cm | 46 in. / 116.84 cm | 32 in. / 81.28 cm | 76 in. / 193.04 cm |
| Hose Reel | 100 ft (30 m) Electric | 100 ft (30 m) Electric | 100 ft (30 m) Electric | 100 ft (30 m) Electric | 100 ft (30 m) Electric | 100 ft (30 m) Electric | 100 ft (30 m) Electric | N/A |
| Length | 74 in / 188 cm | 102 in / 259 cm | 108 in / 274 cm | 110 in / 279 cm | 156 in / 396 cm | 25 in / 63.5 cm | 72 in / 183 cm | 86 in / 218 cm |
| Lights | Standard - Work and Strobe Lights | Standard - Work and Strobe Lights | Standard - Work and Strobe Lights | Standard - Work and Strobe Lights | Standard - Work and Strobe Lights | Standard - Work and Strobe Lights | Standard - Work and Strobe Lights | N/A |
| Power | 5.5 hp | 5.5 hp | 5.5 hp | 5.5 hp | 5.5 hp | 5.5 hp | 5.5 hp | 5 hp |
| Pump | Banjo | Banjo | Banjo | Banjo | Banjo | Banjo | Banjo | 220V Centrifugal |
| Salinity Reader | N/A | N/A | N/A | N/A | N/A | N/A | N/A | Standard |
| Total Control | Standard | Standard | Standard | Standard | Standard | Standard | N/A | N/A |
| Weight Empty | 843 lbs / 382 kg | 966 lbs / 438 kg | 1,127 lbs / 511 kg | 1,200 lbs / 544 kg | 2,122 lbs / 963 kg | 432 lbs / 196 kg | 638 lbs / 289 kg | 2,100 lbs / 953 kg |
| Weight Full | 4,070 lbs / 1,846 kg | 6,256 lbs / 2,838 kg | 9,062 lbs / 4,110 kg | 11,780 lbs / 5,343 kg | 19,050 lbs / 8,641 kg | N/A | 2,754 lbs / 1,249 kg | 12,000 lbs / 5,443 kg |
| Width | 61 in / 154.94 cm | 60 in / 152.40 cm | 70 in / 177.80 cm | 80 in / 203.20 cm | 74 in / 187.96 cm | 48 in / 121.92 cm | 47 in / 119.38 cm | 98 in / 248.92 cm |