SR MAG 48" Broom
Product Number: BRX25175
Where to Buy
Brochure
The Product Number shown for this item may be only one of several components needed for a complete product setup. To confirm additional component requirements, please visit the Product Selector Tool or consult with your local BOSS Dealer.
Product Details
The new SR MAG BRX48 broom attachment powers through snow making quick work of sidewalks and doorways. The 48" broom with long-lasting bristles works in forward or reverse and can be used to clean doorways and entrances with ease. It's optimized for lighter weight, balance, and wear resistance, so you can handle the job in any season. Designed with the BOSS trusted float system and D-Force as standard features for all attachments, the vehicle side hydraulics make operating attachments easy.
Snowrator Builder - Outfit your Snowrator or SR Mag the way you need to take on winters worst.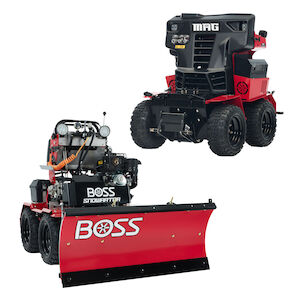 Snowrator Builder
Build your Sidewalk Vehicle with the Snowrator Builder at your price today! The Snowrator builder allows you to choose through an arsenal of implements, attachments, and accessories you'll need to make your job easier.
Learn More
| Specifications | SR MAG 48" Broom |
| --- | --- |
| Caster Wheels | 2, Adjustble Height |
| Overall Width, @ 22.5 Degree Angle | 54.25 in. (137.8 cm) |
| Overall Width, Straight | 53.25 in. (135.3 cm) |
| Weight, Created For Shipping | 376 lbs / 170.6 kg |
| Working Width, @ 22.5 Degree Angle | 40 in. (101.6 cm) |
| Working Width, Straight | 48 in. (121.9 cm) |